Enterprise Solutions
We develop open, highly reliable and highly available solutions
Disig KeyPoint
Cloud solution for the qualified electronic signature or seal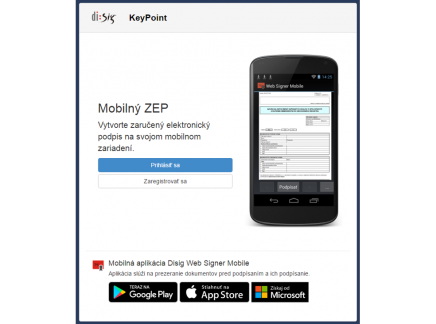 Creating QES without a smartcard
When creating an electronic signature, local storages of key material are usually used. These require the client to have a private key at their disposal. The private key is kept either in a software form (in a file) or on a QSCD device (on a smartcard).

A key material remote storage provided by the Disig KeyPoint system enables the end users to use the key material stored in a centrally administered secured device. This concept provides a similar level of security as common QSCD devices and also relieves the user from a necessity to own such a device and have the device physically attached to the system where the signing is carried out.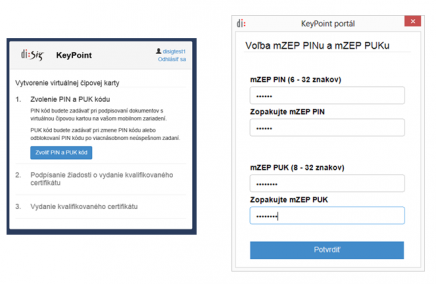 Mobile authentisation
The Disig KeyPoint system enables to link a physical identity with any device. This link may be subsequently used in case of two-phase authentification for any portal. Thus, the organisations that use the Disig KeyPoint do not need to maintain a database of authentication data.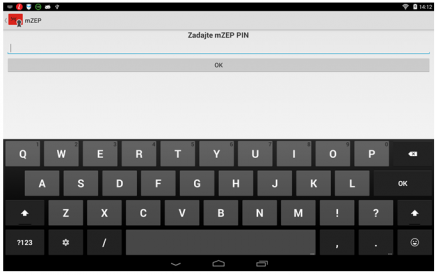 Mobile eID
The key material stored in the Disig KeyPoint system is available for the clients regardless the platform and without a link to a specific device. Therefore, the user is able to create a signature using the same private key on a PC and on a mobile device (e.g. tablet or smartphone).
Basic characteristic
the qualified electronic signature and seal may be created on any device
multi-user systems working with the virtual smartcards concept
safe storing and centralised management of cryptographic keys
integration involving any multi-factor authentification system
integration with a certification authority system for automatic certificates issuing
practically unlimited number of users and keys
trustworthy system certified by Slovak NSA for generation and storing of private keys and qualified certificates as well as for creation qualified electronic signatures or seals
Sole Control Level 2 as in CEN/TS 419241:2014
EU Regulation n. 910/2014 – eIDAS
CEN/TS 419241:2014 - Security Requirements for Trustworthy Systems Supporting Server Signing
Integration with the authentification system

Integration with the certification authority system

Integration with client´s system

THALES nShield F3 Solo with an active SEE functionality

THALES nShield F3 Connect an active SEE functionality

RSA with a key length up to 4096 bits

SHA-1

SHA-256, SHA-384, SHA-512
Microsoft Windows

Linux

Mac OS X

iOS

Windows Phone